Experience three vegan meals drawn from African inspired slow cooking traditions from Morocco to West Africa to Ethiopia. This package gives you a North African Chickpea Tajine, an Ethiopian Red-Lentil & Green Split pea stew combo and our spicy West African No-Nut (allergy friendly Sunflower Seed Butter) stew. See meal descriptions below for further detail.
You get: 7 (13oz) Fully Cooked VEGAN & GLUTEN FREE Meals

Chickpea Vegetable Tajine (3), Ethiopian Lentil Combo (2), African No-Nut Stew (2)
No preparations required.
Simply heat & serve.

▼ Chickpea Vegetable tajine 
Chickpeas slow simmered in a rich cumin, coriander, herb infused tomato stock with other fragrant Mediterranean herbs & spices, accentuated with the natural sweetness of carrots and raisins.
Ingredients- Chick Peas, Carrots, Tomato Paste [tomato], Raisins, Scallions, Cilantro, Cumin, Spices. Brown Rice, Millet, Sunflower Oil, Salt, Spices.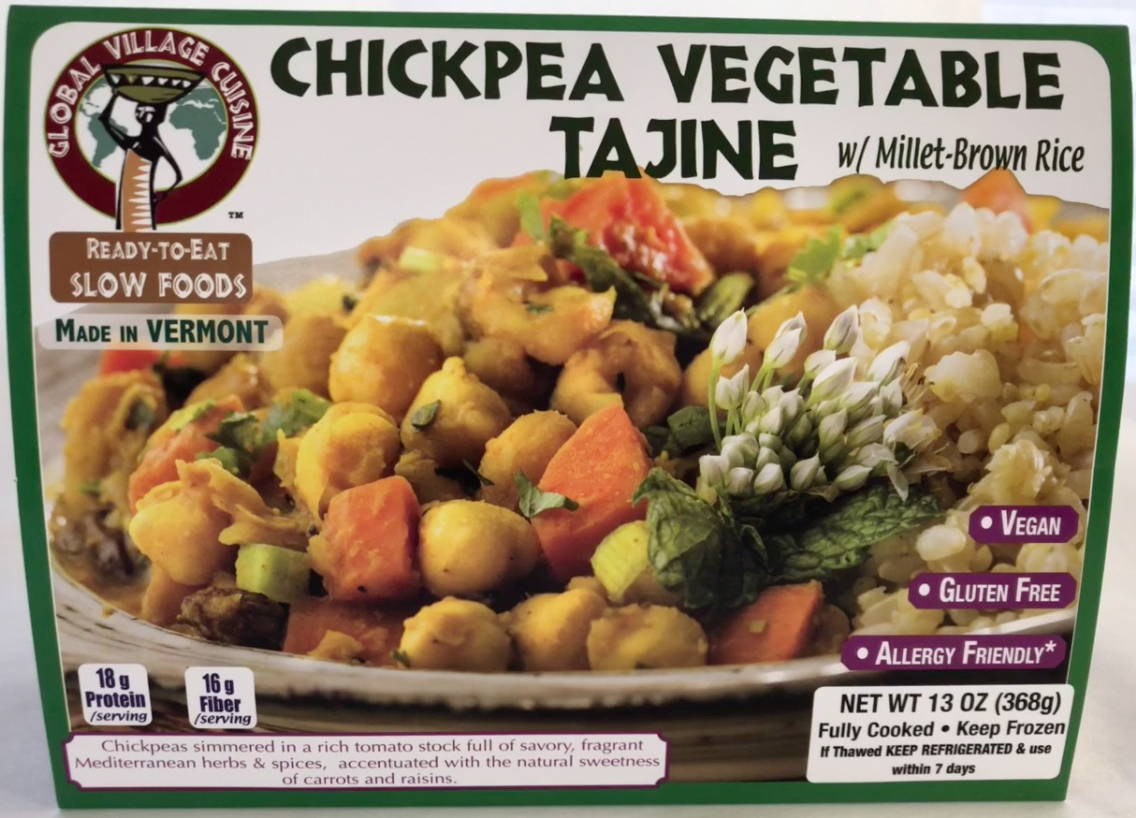 We combine two flavorful, traditionally spiced Ethiopian Vegan Lentil stews in one meal and paired them with hearty brown rice/millet to complete this delicious ethnic dish.

[Ingudai – Savory green split pea stew cooked with fenugreek spice, flax seed & mushroom]
[Yemi ser W'at – Red Lentil Stew infused with ginger, cardamon and other fragrant spices]

Ingredients - Green split peas, onion, mushrooms, flax seeds, ginger, garlic, salt, spices. Red Lentil, onions, tomato paste, ginger, garlic, parsley, spices, salt. Brown Rice, Millet, Sunflower Oil, Salt, Spices.
Our allergy version of a very popular traditional African Stew complete with yams, turnips, carrots, organic non-GMO corn and spinach in rich creamy, chili & ginger spiced Sunflower Seed Butter (instead of Peanut Butter).

Ingredients - Yams, turnips, carrots, corn, spinach, sunflower seed butter, onion, garlic, spices. Brown Rice, Millet, Sunflower Oil, Salt, Spices.